What is Ranbuild Better Pay?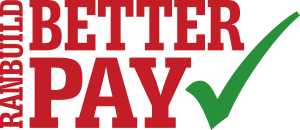 Ranbuild Better Pay allows you to purchase a shed today while making convenient set payments over time – interest free.* The process is quick and easy with fast approval. Better Pay is made possible with the Lombard 180 Visa card. You can apply online or with one of our consultants.
Interest free finance on the Lombard 180 Visa card:
Up to 36 months interest free finance available for your initial ranbuild purchase**
Borrow up to $30,000
Get pre-approved for interest free finance today. For more information, ask your local Accredited Ranbuild Dealer.
FAQ
What amounts can I finance?
You can apply to finance any amount between $500 and $30,000. This also applies to add on sales. (subject to lending criteria and available credit)
How can I make repayments?
Repayments can be made via Direct Debit, online with BPAY, in person at Australia Post or over the phone. Payments made by methods other than Direct Debit will incur a $2.50 payment handling fee per payment.
Is there an annual fee?
Yes. There is a $99 Annual Fee charged on the account open date and annually on the anniversary of the account open date.
Can I access my account on line?
Yes. Lombard provides online access for all accounts. Customers can review their balance, see all transactions and pay their bills with BPAY.
Are there any monthly account fees?
No, there are no monthly account service fees.
When will I make my first repayment?
In total the customer has approximately 50 days before their first repayment is due. They will receive their first statement 30 days after the account is opened and they then have 21 days to make the first repayment.
Finance Terms
*Subject to suitability assessment and credit approved applicants on a Lombard 180 card. The weekly repayments translate to an indicative monthly repayment which is based on the RRP, less the 10% deposit, over a 24 month Interest Free Term. To take advantage of the Interest Free Term, the indicative monthly repayments stated would need to be made by the due date for each statement commencing from the first month. This monthly repayment excludes the $99 Annual Fee, charged on the account open date and annually on the anniversary of the account open date. The Annual Fee needs to be paid in full within the 55 day Interest Free Term as part of the first repayment to avoid interest charges. The indicative monthly repayment assumes no additional purchases, cash withdrawals, fees or charges are incurred. Please note, the Minimum Monthly Payment (MMP) is 3% of the outstanding balance or $30, whichever is greater. Making only the MMP would not repay the purchase price within the Interest Free Term. Interest, currently 22.99% p.a., will apply on any balance outstanding after the end of the Interest Free Term. Terms, conditions, fees and charges apply and can be viewed online. Better Pay is available at participating Ranbuild dealers only, and only up to $30,000. Credit provided by Lombard Finance Pty Limited ABN 31 099 651 877, Australian Credit License number 247415. Lombard® is brought to you by FlexiGroup®.